Unnamed Aerial Vehicles (UAVs) usually known as Drones have given a new definition to the surveying methods. Due to its high-resolution images, accurate metrics, cost-effective and fewer safety risks have made it a prominent tool in all industry. The mining industry is also one of them which has been explored in a broad manner by using drones. By 3-D mapping abilities, drones provide better results and improve flexibility. It has become an integral tool which has replaced manual inspection in the most hazardous areas and collects critical information. Because of proven analytical results, drones are being considered as an efficient replacement for ground-based survey methods which allows it to go beyond surveying, allowing for aerial photography and video capture for various purposes.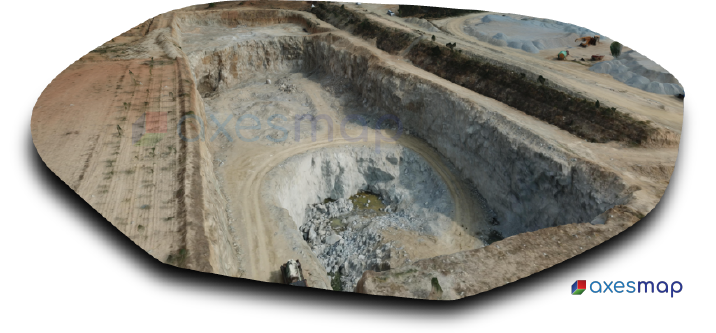 Axesmap Drone services provide you the most reliable data which can help you with:
Pit planning and management
Pre and post-blast analysis
Volume estimation of excavated region
Stockpile reconciliation
Asset management and scheduling
Apart from the above mentioned, drone data can also be utilized for land use monitoring and detection of any encroachment on company property.
Application of Drones in Mining industry
Stockpile Management
In every industry, efficient and effective management of stockpiles is a crucial task because of its higher safety risks, time and cost involved. The traditional ground-based survey techniques require a surveyor to climb over and around stockpiles while being subjected to weather and dust hazards. By using our drone services, one can minimize the manual work and can get uninterrupted mining process. The aerial survey can be conducted on a regular basis which provides accurate updates on the valuable asset of the particular mining company.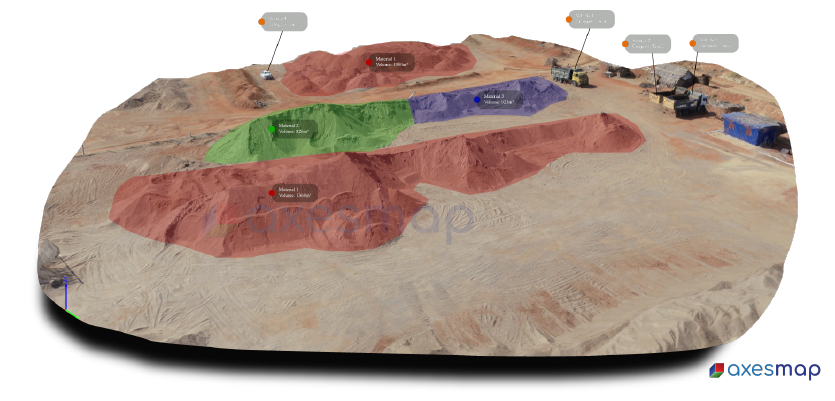 Drilling and blasting
Drones enable to survey your site more often than ever before, by weekly or daily drone flights an individual can create an up to date models for better blast planning, including pre and post-blast surveys. It improves operational safety as there is no need to deploy any personnel in the active part of the mining area to obtain specific data.
Volume Estimation and terrain mapping
Volumes of the excavated region inside and outside the pit are identified with photogrammetry technology. Encroachments if existed can be easily identified. Volumes of stockpiles and dumps data are also very important parameters which are obtained with drone survey.
As the work progress, bench elevations are altered. By using Axesmap's Drone Survey solutions, bench elevations are easily measured with 3d contours data and visual techniques.
Environmental safety and compliance
Drone provides survey data on a regular basis which ensures environmental compliance with local regulations. Also with environmental monitoring safety precautions can be taken on prior.
Axesmap Drone Services is one of the best B2B aerial imagery and solutions providers in India. Contact us for a demo.