Is there a need for digital heritage? So, there you have it That's definitely the case. There is no way of telling when, where, or how items go missing.Axesmap has digitally preserved a monument by using a technique called photogrammetry. The name of the monument is "Kuvempu Samadhi". Well! I hope whoever reading this might be thinking about whether a monument is a right word to use or not. Yes we call it monument, all Indians do. Here it is why? Kuppali Venkatappa Puttappa popularly known as Kuvempu and was an Indian novelist, poet, playwright, and critic. He is the greatest Kannada poet of 20th century. He was the first Kannada writer who got Jnanpeeta award.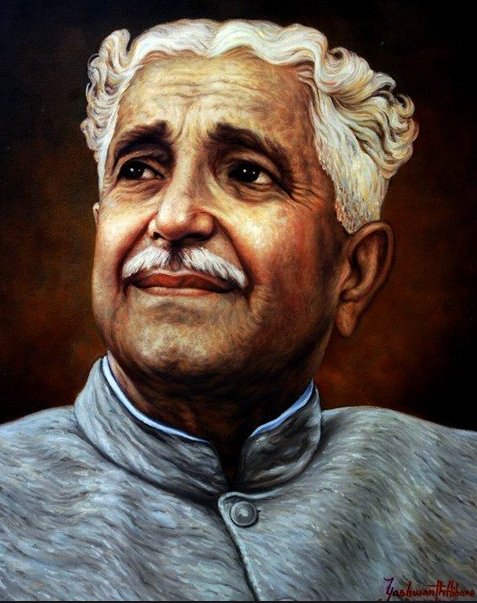 Kuvempu studied at Mysore University in the 1920s, taught there for nearly three decades, and served as its vice-chancellor from 1956 to 1960. For his contributions to Kannada literature, the Government of Karnataka decorated him with the honorific Rashtrakavi ("National Poet") in 1958 and Karnataka Ratna ("The Gem of Karnataka") in 1992. The Government of India conferred Padma Vibhushan award to the author in 1988. He penned the Karnataka State Anthem Jaya Bharata Jananiya Tanujate. Maybe this is enough to know why we call it a monument.
Kavi Samadhi – Kavishaila
Kavishaila is a rock monument made up of megalithic rocks and dedicated to Kuvempu. It is on the top of a small hill in Kuppali. Arranged in a circular fashion, the rocks have been placed to resemble the Stonehenge in England. At the center of this rock, the monument is the place where Kuvempu was laid to rest after his death and a memorial has been constructed at that location. A rock containing the etched signatures of Kuvempu, B. M. Srikantaiah, and T S Venkannaiah is present near the monument. Later, Poornachandra Tejaswi carved his name into the same rock. The scenery around this place is breathtaking. Granite slabs containing engraved poems and quotes of Kuvempu have been placed near the monument.
3D Model of Kavi Samadhi and Engraved signature
The first step in photogrammetry is image acquisition or simply photography. Here is where we take pictures using Drones for aerial pictures and a digital camera. For this model, around 50 pictures are captured in different angles and positions. A 4k resolution is included in a video shot. Thereafter, Color corrections are applied to the images first, and then the photogrammetry method is used. Control points and manual tie points provide the tool proper guidance to the process. In this project, a ground-based camera is used.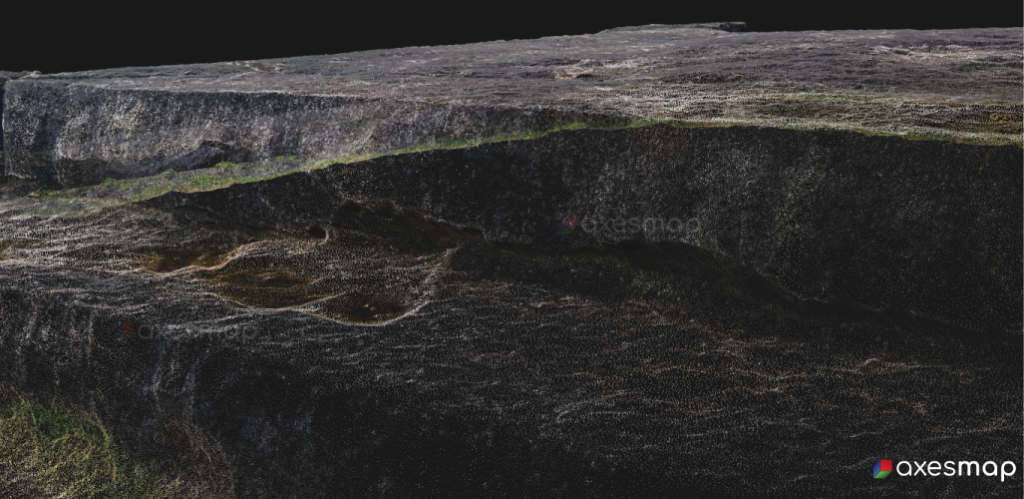 The tetrahedral mesh is separated from the 3D mesh model until it is retopologized to create a polished mesh. The textures are then added to the model.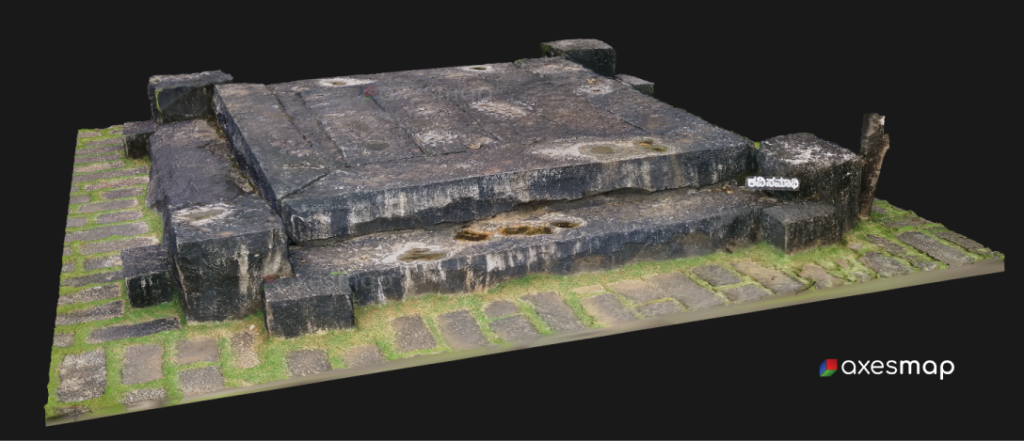 Now digitized 3D models of Kavisamadhi and Handwriting of the Kavi himself are available. To access 3D Model files, please click here or write to hello@axesmap.com.
If you are aware of any cultural and heritage sites which you feel need to be digitized, call us to chat over a cup of chai and snacks!